-20% DISCOUNT WHEN PURCHASING A TICKET ON OUR WEBSITE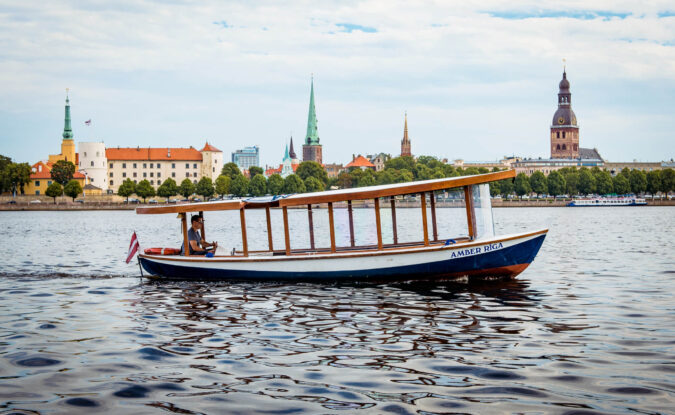 "Riga scenery voyage" : 10:00, 10:30, 11:00, 11:30, 12:00, 12:30, 13:00, 13:30, 14:00, 14:30, 15:00, 15:30, 16:00, 16:30, 17:00, 17:30, 18:00, 18:30, 19:00, 19:30 , 20:00.
Canal boat "AMBER RĪGA" is open daily!
Ticket prices:
"Riga scenery voyage" ~50 min (Adults) – 15.00 EUR
With ISIC –  10.00 EUR
Children from six to nine years of age – 8.00 EUR
Children under the age of six boat trip is free of charge!

Canal boat "AMBER RĪGA" is open daily!
We can offer you a "Riga scenery voyage" with our historical canal boat "AMBER RĪGA" . "AMBER RĪGA" is able to welcome up to 12 passengers and it's Equipped with environmentally friendly engines! During about 50 min long "Riga scenery voyage" we can inspect the popular tourism objects from a different angle. The route while  traveling along the canal meats Kronvalds Park, Bastejkalns, Latvian National Opera, Shopping centre Stockmann Riga International Coach Terminal and Riga Central Market. When entering the river Daugava you will be able to enjoy beautiful scenery of TV Tower in Zaķusala, Riga castle, Riga Cath¬edral and other towers of the Old city. During the voyage you will also see Andrejosta and , Riga passenger terminal.
This is a trip where you are welcome to see Old city after 800 years.
*The audio guide is played in one language throughout the boat (as background). The language is chosen as the majority of passengers want. Customers cannot listen to audio guides individually in 1 language.
We offer river boat "VECRĪGA" , River boat "ELIZABETE" and canal boats "AMBER RĪGA" , "AURORA" , "ARABELLA" and "ANNABELLA" to organize:
Private celebrations,
Graduation parties,
Bachelor/ bachelorette parties,
Wedding banquette,
Children parties,
Team building events,
Corporate events,
Banquets, seminars /presentations and other events.
Tell us your idea and we will find a solution!
As well, we offer Boat rental – tell us your idea, we will offer the solution!
Tel.nr.: +371 29896138, 20091302
E-mail: jaunavecriga@knutstyle.lv
Web: www.rivercruises.lv , www.jauanvecriga.lv