-20% DISCOUNT WHEN PURCHASING A TICKET ON OUR WEBSITE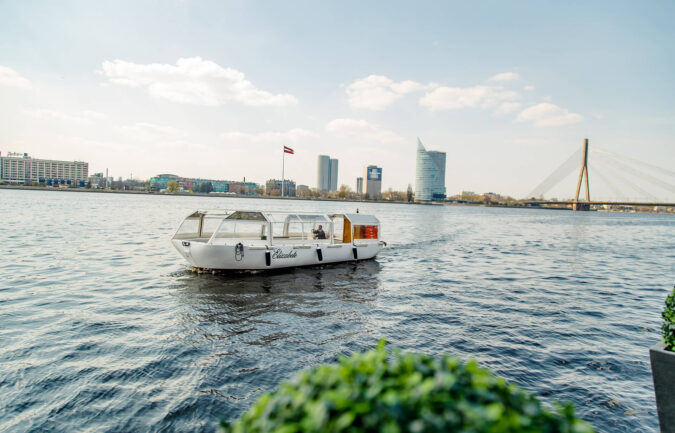 Ticket prices:
"Rīga – Jūrmala (Majori) – Rīga" (Adults) – 20.00 EUR
"Jūrmala (Majori) – Rīga" (Adults)– 10.00 EUR
Pupils, students (With ISIC)–  12.00 EUR
Children from six to nine years of age –  8.00 EUR
"ELIZABETE" is a completely new, equipped with environmentally friendly engine, comfortable and safe ship, managed and serviced by a professional team.
We offer a boat trip on the route RIGA- Jūrmala (MAJORI) -RIGA. During the trip you can see the Riga passenger port, the Freeport of Riga, Kipsala, Andrejsala, Kundzinsala, Mangalsala, Bolderaja. From the Daugava along the Love Island, the ship's path leads to Buļļupe, which connects Lielupe and Daugava. Sailing along the Bullupe, you have a view of Bolderāja, you will be able to see nature, quiet and romantic landscapes surrounded by reeds, as well as a park of stone sculptures. Upon reaching the Lielupe, a view of the ancient Lielupe estuary and the White Dune will open, as well as a great view of the Jūrmala panorama during the trip along the Lielupe.
The ship can carry up to 40 passengers.
We offer river boat "VECRĪGA" , River boat "ELIZABETE" and canal boats "AMBER RĪGA" , "AURORA" , "ARABELLA" and "ANNABELLA" to organize:
Private celebrations,
Graduation parties,
Bachelor/ bachelorette parties,
Wedding banquette,
Children parties,
Team building events,
Corporate events,
Banquets, seminars /presentations and other events.
Tell us your idea and we will find a solution!
As well, we offer Boat rental – tell us your idea, we will offer the solution!
Tel.nr.: +371 29896138, 29224742
E-mail: jaunavecriga@knutstyle.lv
Web: www.rivercruises.lv , www.jauanvecriga.lv